VISION:
To be the premier platform for spearheading vegetable research and development and information exchange in ASEAN
MISSION: To coordinate and facilitate development and implementation of R&D projects on vegetables in ASEAN member countries, in collaboration with AVRDC – The World Vegetable Center and its regional office in East and Southeast Asia, and other organizations, as well as facilitate information exchange, technology transfer and training on vegetable production related fields.
NEWS
The World Vegetable Center (WorldVeg) is now accepting applications for its 36th International Vegetable Training Course (IVTC):
Course Title: Vegetables: From Seed to Table and Beyond
Course aim: To prepare participants to alleviate hunger and poverty through sustainable development of vegetables sector
Format of the course: The training is composed of two separate modules which can be taken individually or as a whole
Module I: Seed to Harvest (9 October – 3 November 2017)
Module II: From Harvest to Table (6 November – 1 December 2017)
Training Venue: World Vegetable Center Research and Training Station in Kamphaeng Saen, Nakhon Pathom, Thailand
The training curriculum is designed to engage participants in the entire spectrum of activities in the vegetable value chain such as breeding, seed production, production, marketing, postharvest, nutrition, and sessions on gender, climate change adaptation, communication, and monitoring and evaluation.
The 36th IVTC will be organized in collaboration with the Horticulture Innovation Lab Regional Center at Kasetsart University, Thailand and is endorsed by the International Society for Horticultural Science (ISHS).
Submit online application through http://ivtc.avrdc.org/application-form/
For further information, check the IVTC website at http://ivtc.avrdc.org
For queries, email ivtc@worldveg.org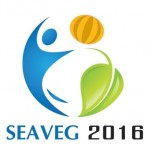 The third in the pace-setting series of symposia, SEAVEG 2016 will focus on improved nutrition and livelihoods, and will be held at the Putrajaya Marriott Hotel, Sepang Utara, Malaysia, 6-8 September 2016. This symposium will highlight the critical importance of vegetables in Southeast Asia and identify technologies for increased vegetable production, marketing and consumption; to realize the potential of providing nutrition to rapidly growing and increasingly urbanized populations.
SEAVEG 2016 will focus on the role of vegetables to nurture a balanced and nutritious diet, helping to alleviate micronutrient malnutrition and assure better health. Vegetables are high value crops and thus growers are receptive to acquiring skills and technologies to ensure sustainable productivity of quality vegetables to satisfy market demand, hence contributing to increased incomes and improved livelihoods. Further, vegetables require careful maintenance and are often managed by women; who are also responsible for household nutrition, therefore benefits in production and vegetable affordability directly benefit household members through improved diets.
The symposium 'SEAVEG 2016: Vegetables for improved nutrition and livelihoods' will comprise oral papers, poster display and a trade exhibition. The organizers strongly encourage both types of presentation and will ensure that the posters receive good visibility at the symposium. One set of proceedings will be provided on registration that contains presentation abstracts and a second set of proceedings at a later date containing written papers derived from oral presentations.
REGISTRATION OPEN – CALL FOR ABSTRACTS OPEN
6-8 September 2016
Putrajaya Marriott Hotel
Sepang Utara, Malaysia